OWT: "Just trying to wake people up."
Contributed photo
'Put it under one roof'
On its new CD, 'Armed and Dangerous,'
One World Tribe sounds fresh, contemporary, vital.
Preview by Dave Richards
Staff Writer

hey played their first show 14 years ago, an eternity in today's here-today, long-gone-tomorrow pop world. So how in the world does One World Tribe sound so fresh, vital, and contemproary on the just-released "Armed and Dangerous," their first CD in seven years?
The 13-track release takes a more hip hop-centric approach than their previous CDs, with rap-styled vocals on nearly every cut.
They marry those vocals to a global musical village of melodies and beats that encompasses reggae, Aro-pop, jazz, samba, Brazilian, Middle Eastern, and other musical styles.
The result is an intoxicating, percolating stew that's not as dense or percussion-heavy as earlier OWT but brighter and airer. Band leader Kennedy Thompson says they were anxios to take hip-hop on an around-the-world journey.
"We're just trying to take some different flavors that people may not be used to having mixed in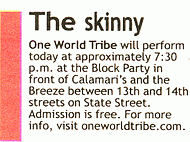 with hip-hop and bring it together, which is our whole thing: One World Tribe. Put it under one roof.
"Hip-hop and world music," he said, "It's a whole new frontier," he added.
One World Tribe, which features from seven to 12 members at any gig, includes five core members from the beginning: Thompson, vocalist Preach Freedon, guitarists Kenny Hollis and Frank Singer, and bassist Mike Chin. As other members have come in, they've added entrancing new flavors.
"When Kennedy came in - we call him Dynamq - he brought a more youthful influence," Thompson said. "He's locked into what's happening with hip-hop and the dance hall."
Then there's Buju, a native of Senegal, with a thick patois.
"He's Senegalese, but he's a 22-year-old cat and he's down with Snoop Dogg and Dr. Dre," Thompson said.
So is MC Chilly J, a longtime hip-hop DJ on Saturdays at WERG-FM.
"When you've got a Senegalese drummer [M'Baye Rama Diagne] next to a guy from Jersey next to a cat from Detroit next to a guy from the streets of Erie, you're going to have a mix," said Singer, a veteran of Erie's jazz scene.
Thompson says One World Tribe's residencies in schools help them stay in touch with younger music fans and their tastes. And staying musically fresh and current is paramount for Thompson.
"I don't want One World Tribe to ever wind up being somebody's mom's band," he said. "I want to be relevent to all ages. The great artists are always relevent, like Bob Marley and Carlos Santana."
Some "Armed and Dangerous" songs - such as the warm, bouyant "Tropical Love" - make use of I Three-like harmonies. On the other side is "Queen," with a chant-like Middle Eastern vocal. The CD also showcases the band's chops, especially on the 9-minute "Yagnimone."
"I like to have at least one song that defines the musicianship of the band," Thompson said. "Where people listen to it and go, 'Those guys got some game.'"
They got a message too, reflected in the band's mix of nationalities, genders and age groups. One World Tribe celebrates the ties that bind humanity, and rails against the forces that hold it down.
Its inflammatory CD title refers to the ability to rally people through music and reason.
"You take someone like Dr. King or Robert Kennedy or Malcom X. They were people who were armed and dangerous. They didn't have a gun, but they had weapons. Their weapons were knowledge and believing in inspiring people to change their own circumstances.
"When we say 'Armed and Dangerous,' it doesn't necessarily mean in a physical sense," Thompson added. "We're just trying to wake people up."