One World Tribe Hip Hop, Reggae, Funk, Latin Music, World Music
Music for your mind and body
[ back ]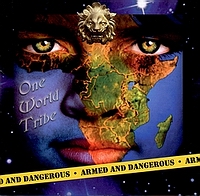 Read what they say about
ARMED AND DANGEROUS:
"One World Tribe, "Armed and Dangerous." Three and a half stars.

Erie's One World Tribe plunges heavily into hip-hop on "Armed and Dangerous," its first CD in seven years, but with a twist. They meld rap-style vocals by Preach, chelaBOP, BuJu, and MC Chilly J. to a global melange of melodies and beats, which lends the CD an exotic, esoteric air. Along the way, they visit Africa, Jamaica, Latin America, and even the Middle East on "Queen."

Madness-styled opener "Do U Have a Plan?" gets things off to a supercharged start with a peppy horn chart and its call to rise above violence. You could see belly dancers groovin' to "Queen" with its smooth, hypnotizing air. Both "Baba Simba" and "Tropical Love" have an infectious, soothing reggae lilt, and benefit from rich female harmones. A spare, itchy funk pulse drives the issue-driven "Lock Down," while the hopeful closing song "Imagine" aims for the soul grandeur of heritage artists such as Marvin Gaye or Stevie Wonder.

But the centerpiece is "Yagnimone," a 9-minute cut that blends African percussion, chanting, and breezy smooth jazz. With rippling keys, insistent drums, and soaring horns all taking turns in the spotlight, "Yagnimone" showcases the band's pure musicality.

Well produced and at times lyrically pointed -- "Four Two Zero" questions who's the real target of the war on drugs -- "Armed and Dangerous" finds One World Tribe making world music that matters, music with conscience and heart.


- CD Review - Dr. Rock, Erie Times-News


[ top ]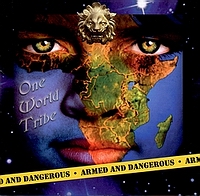 Apple iTunes / Amazon.com / Amazon Music

Hear a sample of each song from Armed and Dangerous
Armed and Dangerous is One World Tribe's third CD, released in the fall of 2008. In keeping with the diverse musical styles and influences coming together in the group, this CD uses Hip Hop as the connection between songs that have Reggae, Funk, Latin, and World Beat underpinnings, as well as straight-ahead Hip Hop.

Hip Hoppers include Preach Freedom, Dyce, Buju, chelaBOP, DJ Chilly J, Kingpin, Xodous, King Tappa, and Slice the Mic Snatcha. Each delivers club-tested, club-approved rhymin' featuring positivity, consciousness and knowledge, as well as some Ol' Skool for your head.

From the balls-to-the-wall Do U Have a Plan? to the hopeful Imagine, each cut moves you with OWT's trademark grooves, tight vocals, and soaring solos. Tribe's patented solid rhythm is ever-present, keeping the CD as eminently danceable as the last two.

One World Tribe is still a band with a message, delivering conscious lyric along with its insidious rhythm. Beginning with the meaning of the title, Armed And Dangerous, this CD makes you think while you're groovin'. With a couple of exceptions, every track is topical and filled with the news of the streets. While much of that news can be disturbing if heard outside such jamming music, OWT offers up knowledge, solutions, and hope.

If you are a hate-mongering, racist hawk who believes in separation between peoples, class wars and intolerance, this is not the CD for you. If you are fed up with all the reasons why we CAN'T get along, then grab a copy of Armed and Dangerous and hear some reasons why we CAN.


[ top ]

Apple iTunes / Amazon.com / Amazon Music


Personel on
ARMED AND DANGEROUS:
Produced by: One World Tribe
Assistant Producer: Duane "Sugaman" Jackson
Engineered by: Shawn Hammer & Randy Hetherington
Recorded at Midtown Recording
Artwork: Matty Walker
Executive Producer: The Kingpin for Billionaire Records

DROPPING BOMBS

Willie Thompson for keeping us afloat all these years
Brad Amidon for keeping the scrolls
Mary Connerty-Singer for writing the grant that made this album possible
Momma Charlene, Baba Simba, Kmal Fields, Curtis WIlliams, Brian Kristy and the whole Buffalo krew for your continued support thru out the years

Special thanks to
M'Baye Rama Diagne for indroducing us to the music of Senegal so many years ago
Baba Raymond for your continued insight into the African Diaspora, without you where would we be?
Katie West & all the staff at PennPAT that made acquiring the funds for this project a real possibility
Duane "Sugaman" Jackson for generously donating your time and ears to making this album sound pro
Matty Walker for making our artwork world class
All of our fans everywhere for making it all possible


This project is partially supported by a grant from Pennsylvania Performing Arts on Tour, a program developed and funded by the Vira I. Heinz Endowment; the William Peen Foundation; the Pennsylvania Council on the Arts, a state agency; and the Pew Charitable Trust; and administered by Mid Atlantic Arts Foundation

This album is dedicated to the memory of Mark V. Marchant, OWT founding member
[ top ]

Apple iTunes / Amazon.com / Amazon Music


Albums Available:



Song Samples:
Broadband samples are larger and will sound better.
Do You Have A Plan? (Preach Freedom)
[ broadband 651 KB | stream ]

Queen (K. Lucas, C. Lewis, B. Cissiko, K. Thompson)
[ broadband 723 KB | stream ]

Baba Simba (Preach Freedom)
[ broadband 663 KB | stream ]

Lockdown (F. Singer, J. Norton, K. Thompson, R. Williams)
[ broadband 713 KB | stream ]

Tropical Love (K. Lorya, M. Joseph, K. Prince)
[ broadband 531 KB | stream ]

Yagnimone Mama M Bamba (R. Williams, M. Diagne, K. Thompson, F. Singer, R. Sylla)
[ broadband 1,086 KB | stream ]

Inner City War (Kennedy Lorya)
[ broadband 561 KB | stream ]

Get On The Floor (K. Thompson, C. Lewis, E. Lozada)
[ broadband 710 KB | stream ]

Ghetto (R. Williams, R. Scott, Vic S.)
[ broadband 535 KB | stream ]

Pure MC (J. Norton, K. Thompson)
[ broadband 468 KB | stream ]

Marcus Garvey (Preach Freedom)
[ broadband 595 KB | stream ]

4-20 | Liberation Day (chelaBOP)
[ broadband 618 KB | stream ]

Imagine (K. Thompson, D. Jackson)
[ broadband 626 KB | stream ]


[ top ]

Apple iTunes / Amazon.com / Amazon Music


Live Cuts: